The unexpected finally happened, your Windows 8 installation isn't booting up, you are getting the blue screen of death, and there isn't a way to get to the Windows 8 troubleshooting environment, or your hard drive simply went bad.
It is just the matter of time for a storage media to go bad, but in the other hand nowadays system failures by software are becoming somewhat rare, however they still happen. Thankfully because you created a system image days before there still hope to get your computer back up and running once again.
As I previously showed you that creating an image in Windows 8 is quiet straight forward and restoring your PC should be the same. Follow these steps to get your PC running the way it was before.
Instructions
Before we start, there are two ways to recover your computer, it all will depend on the issue you are trying to resolve. For example, if you are recovering from a hard drive failure and you replaced the drive with a new one or your computer isn't booting at all, you are going to need the
"system repair disc"
. If you are trying to get rid of a virus or you are trying refresh your computer, you can start this process from the
PC settings
within Windows 8.
Quick Tip: If you didn't create a "repair disc", then you may able to use the Windows 8 DVD installation media to start the recovery process.
For this demonstration I am going to restore Windows 8 within the PC settings and I am going to restore an image file from a network shared. If you are recovering from total system failure, insert the "System repair disc", boot the PC and continue in
step #3
.
1.
Use the

+I
the Setting menu and click
More PC settings
.
2.
Navigate through
General
and user
Advanced startup
, click
Restart now
.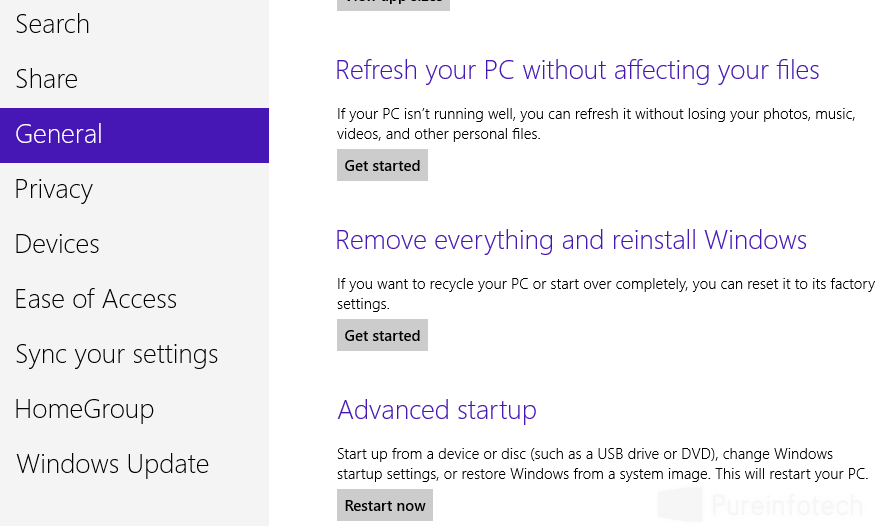 3.
From the menu, click
Troubleshoot
.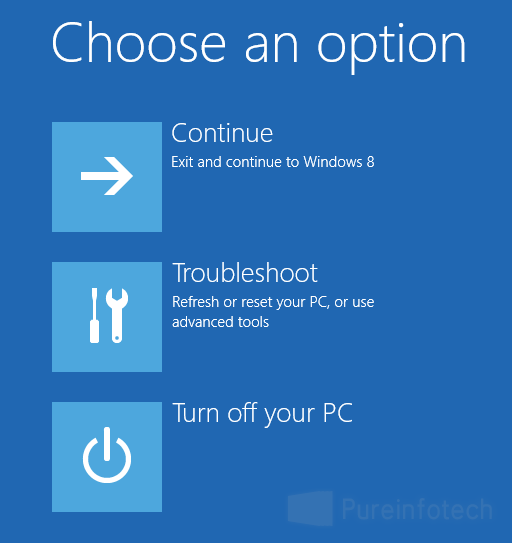 4.
In the
Troubleshoot
menu, click
Advanced options
.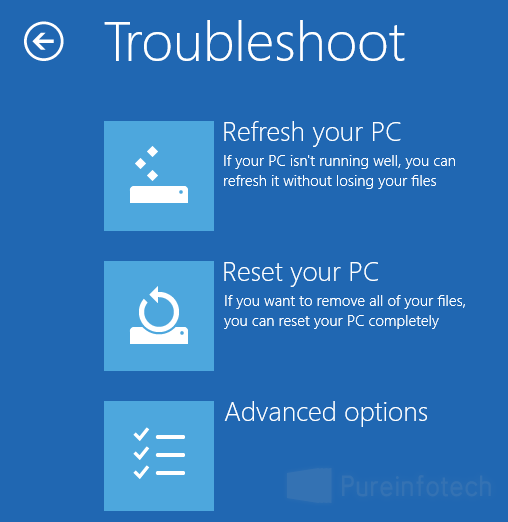 5.
Next, from the menu click
System Restore
– Recover Windows using a specific system image file.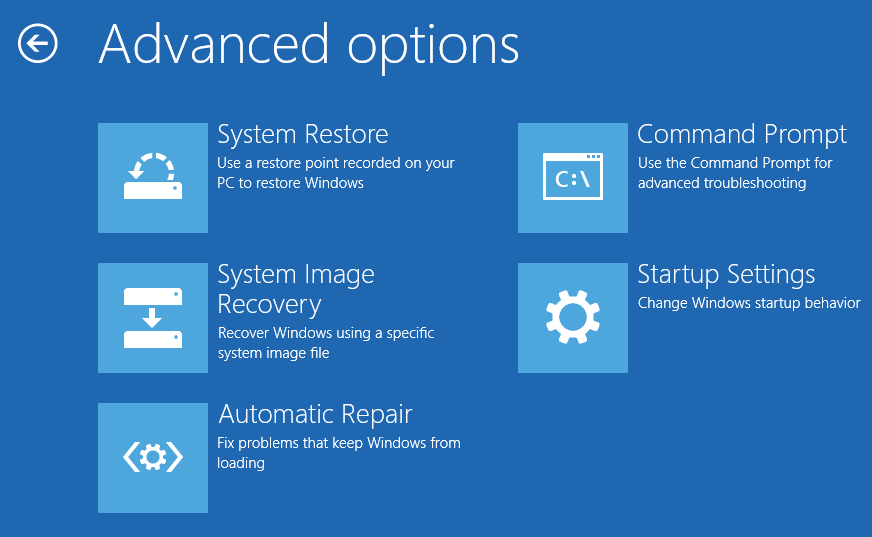 6.
After Windows 8 restarts you'll be presented with the
System Image Recovery
environment, click on your account name, type your password and click
Next
.

7.
Next the
Re-image your computer
wizard starts — which it looks identical to the version in Windows 7 –. Two things here:
If you saved the recovery image in an external hard drive and it is connected to the computer, the wizard will find it and it will select the latest system image to restore — If this is your case skip to step #11.
If you want to use a different image file or if you need to get the image file from a different location, choose the Select a system image and click Next.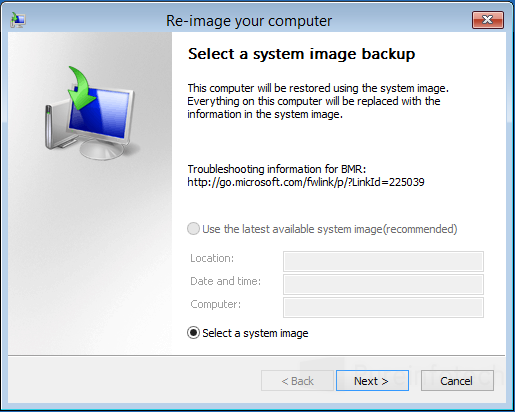 8.
Click
Advanced
button and then two options will become available:
"Search for a system image on the network"
— This is the one I am going to be using for this tutorial –, and
"Install a driver"
, this option will be useful if you have attached a device that Windows doesn't recognize and you have the driver for it. For our demonstration, click the first option, connect to the network, enter the remote computer's account name and password, and click
OK
.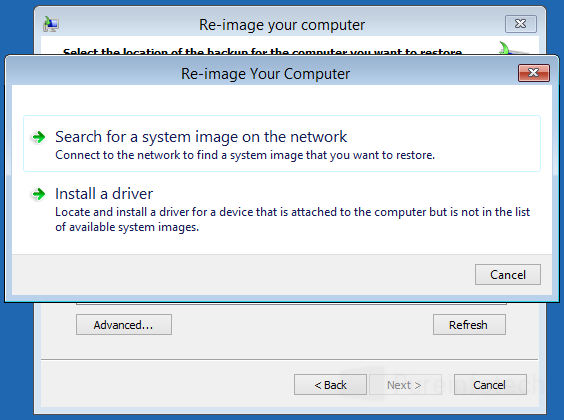 Quick Tip: Make sure that when you are entering the credentials correctly to connect to the shared folder and that you enter the computer name as well in the account name field, like this: computer-name\admin
9.
Type the network path (e.g.,\\remote-pc\share\backup) and click
OK
.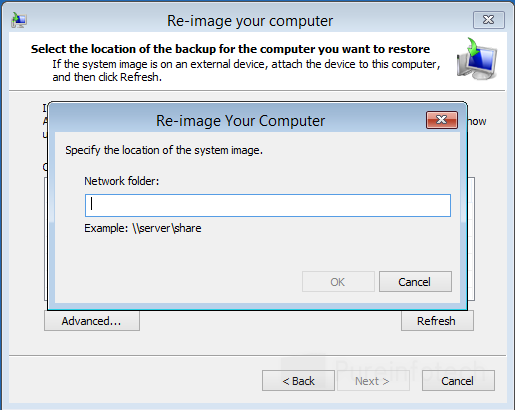 10.
Select the image file you want to restore and click
Next
.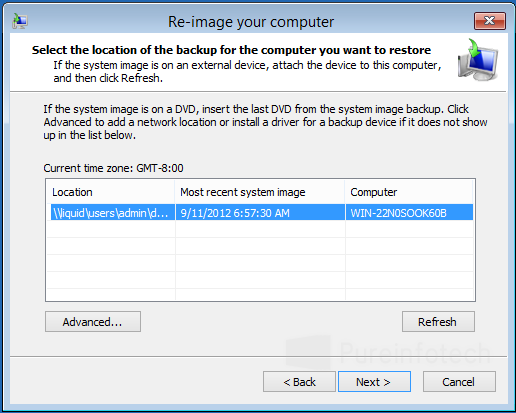 11.
Select the date and time of the system image to restore, click
Next
and
Next
one more time.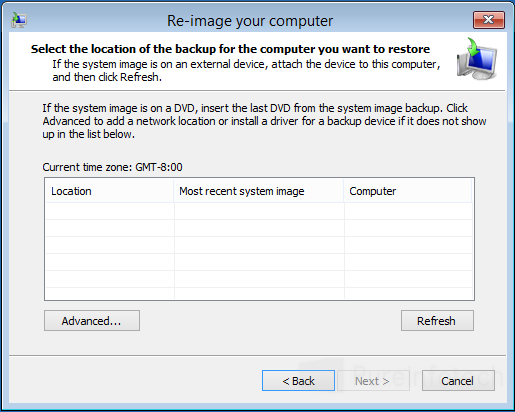 12.
A final summary will be displayed, click
Finish
and confirm that you understand that everything currently in your hard drive — the one with Windows on it — will be erased by this process.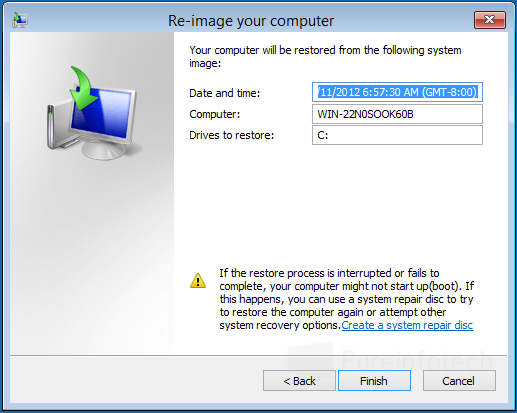 The restore process will now begin, the time that it takes to finish the restoration will vary from several minutes to several hours.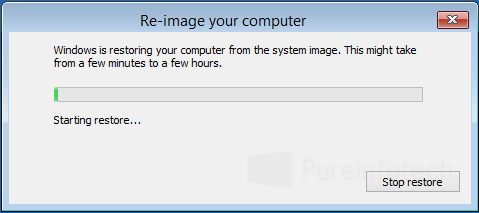 When the process finalizes the PC will reboot, log in to your account, go to the Windows 8 Desktop, and you may be notified that the OS needs to restart one more time in order to fully complete the process. Proceed with the reboot and then you'll be done.